A Food Prescription Convening with Dr. David Nabarro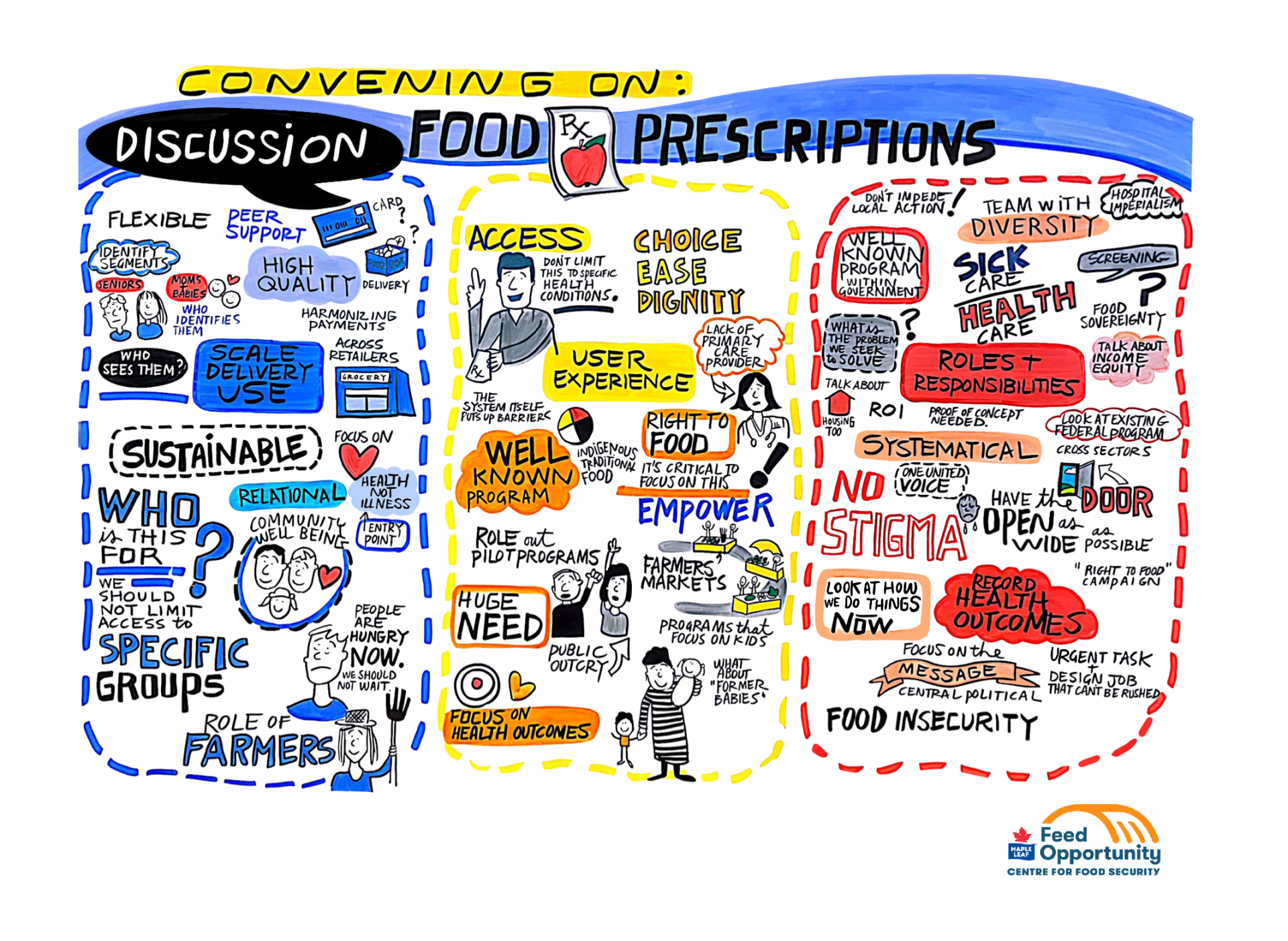 Food insecurity is a public health problem. It has been linked to a raft of health problems including heart disease, chronic pain, infectious disease, depression and anxiety disorders. This results in mounting costs to our health care system, as nearly 50% of adults living in severely food insecure households are unable to afford their prescription costs and end up skipping, delaying, or reducing their medications. People who are food-insecure make greater use of primary care services and are more likely to be admitted to acute care. Evidence shows that severely food insecure adults incur twice the healthcare costs of food secure adults – averaging $2300 more per year.
Food prescription programs, where individuals are provided a 'prescription' to purchase food that could help manage health conditions, are currently delivered through a range of program models in Canada and globally. While there is no single program or policy that will solve food insecurity for everyone, are there conditions under which food prescriptions could support people experiencing food insecurity and improve health outcomes?
On June 14th, the Maple Leaf Centre for Food Security hosted 55 stakeholders representing healthcare, community organizations, academia, industry, and policymakers in Toronto to discuss this question and explore opportunities to scale food prescriptions across Canada. The convening was moderated by Dr. David Nabarro, Strategic Director of the 4SD Foundation and Co-Director and Chair of Global Health at the Institute for Global Health Innovation at Imperial College London.
Read on for some brief highlights of the event – or, read Dr. Nabarro's reflection or the detailed Report on Dialogue Themes on our Resources page.
Several key themes emerged to help guide the design and scale food prescription programs:
Centre the needs and dignity of people with lived experience of food insecurity: Participants noted the need to build on the (generally) high levels of trust between food insecure people and health care providers, and the need to provide prescriptions for foods that are culturally relevant as well as healthy. Many felt strongly that patients need to be meaningfully involved in the design of food prescribing efforts.
Maximize the health impact of food prescriptions: By identifying those who may have a high need for food prescriptions through screening those known to have chronic illnesses, offering and encouraging nutritious foods in the prescription, and accompanying prescribing with food skills training for those who may need or want it. 
Devise a seamless and accessible service that matches client expectations, with food prescribing as part of a comprehensive approach to food security: Food prescriptions should be offered through a personalized service, with the full engagement of food producers and retailers, including community markets.  Patients should be partners in implementation: it is important that there is transparent information about the cost of food prescriptions and that this is kept at a reasonable level for the patient (in terms of opportunity cost for accessing prescribed food), for the prescribing entity, for the community and for the provincial or federal government.